LogiCO2 - MK9 Central Unit Kit 4A - 0328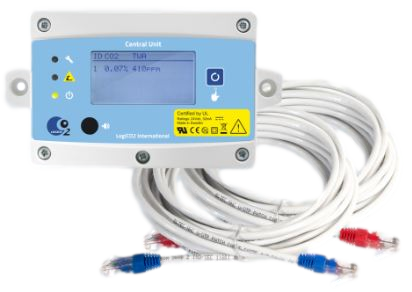 Sale
CO2 Central Unit MK9 kit 4A
MK9 CO2 Safety system - Part #0328
The MK9 CO2 Central Unit represents a new thinking in CO2 Monitoring. Made so that all sensors that we make for fixed installation can be connected. The older MkVII sensors can also be connected. A larger display, functional design and new language functionalities are some of the new features of the MK9 Central Unit. Up to eight sensors can be connected to the Mk9 Central Unit, providing a sophisticated and powerful System.
The default alarm levels are
– 5.000 ppm Awareness Alert
– 5000 ppm TWA 8Hr (PEL)
– 1,5% (15.000 ppm) ½ STEL
– 3,0% (30.000 ppm) STEL
What is in the package?
Central Unit Mk9 + 10 m power/ communication cable + 1 RJ45 1‐1 connector + 1 RJ45 1‐2 connector + manual + Central Unit sign+ H/S sign.
For technical information click HERE