LogiCO2 - MK9 CO2 Sensor Only - 1134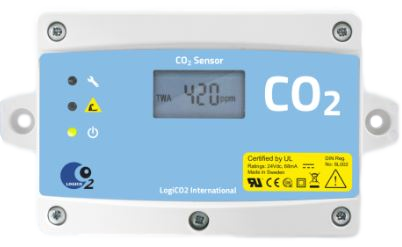 Sale
MK9 CO2 Sensor - Part # 1134
LogiCO2´s MK9 CO2 Sensor measures the CO2 concentration and alerts in the event that CO2 concentration reaches the pre-set alarm levels. When installed, the system will continuously monitor the CO2 concentration in the room or area where the CO2 sensor is located.
The MK9 CO2 Sensor uses IR technology to measure the CO2 concentration and communicates with MODBUS. It can be used as a stand alone unit, connected to the LogiCO2
Central Unit or be used as a sensor in a larger computerised monitoring system. A separate electronic transformer supplies 24 V power to the system. The system monitors STEL as well as TWA levels of CO2. The system also provides visible indication of CO2 levels and temperature in the area where the remote sensor is located. The CO2 Sensor performs a self-calibration at regular intervals ensuring calibration under normal circumstances. This eliminates the need of manual service calibration in most normal enviroments.
The alarm levels can be changed to any level to comply with relevant standards or policy. All LogiCO2 sensors are automatically calibrated by the "ABC Algorithm".
The pre-set alarm levels are:
– 5.000 ppm instantaneous Alert
– 5000 ppm TWA 8Hr (PEL)
– 1,5% (15.000 ppm) ½ STEL
– 3,0% (30.000 ppm) STEL
What is in the package?
CO2 Mk9 detector
For technical information click HERE